JustJanS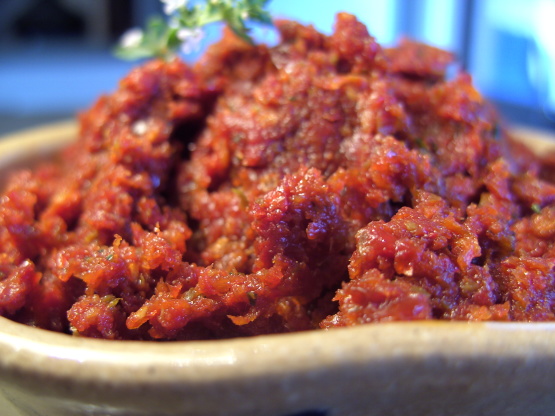 Ohh let me count the ways to use this Tapenade.......over pasta, as a dip, served on some crusty bread or rye, on a cheese board or serve with some pitta crisps! Even give as a gift..... its Wonderful. Note -- This is best made a day ahead of serving.

I only made and tasted this today with plans to use it in a pasta tomorrow night. It was a super simple tapenade to make and the taste was great already. I'm sure a night to stand will only improve it. I didn't have a jar to sterilize, so I piled it into a clean bowl and plan to use it in the next few days. I'm wondering how effective a hot sterilized jar would be once the room temperature mix hit it anyway?
Process all the ingredients until smooth.
Spoon into hot sterilised jar and seal jar immediately.
N.B. This is best made a day ahead and can be stored in refrigerator for about 4-6 weeks. This recipe makes approx 250ml of Tapenade.