Toasted Flat Bread With Pesto

Crispy and delicious side dish or appetizer.
Directions
Spread pesto on bread and top with cheese.
Toast until VERY crisp.
Cut into wedges.
Reviews
Most Helpful
Yummy! I used naan bread and Simple Roasted Garlic Pesto. Baked at 400F and it got brown and crispy pretty quick. Thanks for sharing!

I absolutely loved this! I served it at a party and it went over big. It's a nice addition to a party, because it is so darn easy and it impresses. I used store-bought pesto (I think Classico is the best). I cooked the pitas at 350 degrees for 10 min. and then ran under the broiler for a few more minutes to get it really crispy. Yum!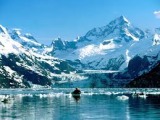 I put my oven on broil, and toasted the top, but to get it crisp I had to set it back to bake and then wait a while. I broiled for the specified time (6 minutes), but found I needed to return it to the oven to get it crisp. I used part of the time under the broiler, but added another 10 minutes baking to get the pita crisp. Great snack that we enjoyed before the Superbowl. The combo of pesto and cheese is dead on. Thanks for sharing!