Rita1652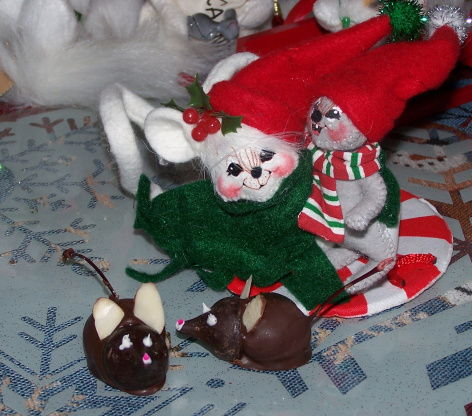 The cutest, delicate mice you ever saw! Everyone remarks about them. I give trays of assorted cookies each year and place them on top. They just make it! It actually is a help when the kids can put on the almonds. I don't remember where I got the recipe, so I gave the best measurements I can recall. It sounds like it could be a Hershey's recipe!? For adults you can strain the cherries, then add rum or almond liquor and soak overnight drain and dry proceed with recipe. Save the rum for drinks.

I've made these several times and they are super cute! To simplify the recipe I melt Almond Chocolate bark (purchase from WalMart) in the microwave. I dip the tip of a toothpick into the melted chocolate and apply a small dot of chocolate to attach the eyes. I purchase candy eyes online. Everyone loves opening a cookie box only to see the mice already stealing the treats inside!
1

(16 ounce) jar maraschino cherries, drained dried on paper towel

1

(10 ounce) bag miniature chocolate chips (optional for the eyes)

1

(12 ounce) package semisweet chocolate

2

ounces paraffin wax

1

(10 ounce) bag sliced almonds

5

ounces white icing

1

(16 ounce) bag Hershey chocolate kisses
Melt chocolate and paraffin double boiler.
Dip whole cherry holding tail, set on waxed paper.
Attach one kiss to opposite end of tail, it`ll be the head.
Make sure the tail lies along the waxed paper.
Don`t forget it`s to be a mouse.
Then put almonds for ears between chocolate kiss and cherries.
Tube tiny eyes above the nose then apply mini kisses over icing.