This drink is named after the lovely Beverage Tag Game host Chef V and is based on her recipe for The Big O. It's nice and sweet just like her.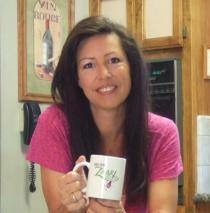 I just had to make this as I just spotted it in Bevy Tag. Thank you Cookiedog for thinking of me and for your kind words! I'm glad you enjoy the Bevy Tag Game. We love you!!!! Now for this drink, I really truly honestly enjoyed the combination of bailey's Amaretto and I confess, I used vanilla vodka. It was a *GREAT* Iced Coffee with a kick ;) Thank you for posting.... YUMMERS! ~V
Mix ingredients in an old fashion glass with ice.