The Ultimate Grilled Cheese
ImPat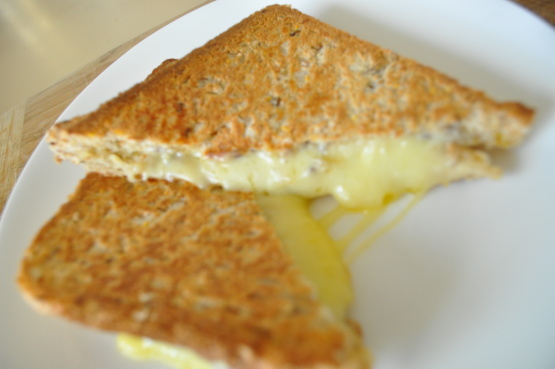 I love a good grilled cheese sandwich and this fits the bill! This came from the magazine All You.

Top Review by ImPat
I used slioed wholemeal/wholegrain bread, a sharp vintage cheddar with a little mozzarella added to give some stretchiness when eating and the dijon and toasted in the sandwich press so put butter on the inside of the sandwich. delicious and gooey cheese, hmmm, thank you B&J'sGranny for a great and easy lunch to make, made for ZAAR Chef Alphabet Soup.
Heat a large skillet over medium heat.
Lay braed on a work surface. Spread each slice lightly on one side with mustard and then divide the cheddar among 4 slices, lightly packing cheese.
Top with remaining 4 slices of bread.
Spread 1 tablespoon of butter on top of sandwiches.
Place 2 sandwiches, butter side down, in skillet. Place another skillet on top of sandwiches to compress them. Cook until bottoms are golden, about 2 minutes.
Spread 1/2 tablespoon butter on unbuttered side of grilled sandwiches. Flip them, place skillet on top, and cook about 2 minutes, until sandwiches are golden and cheese is melted.
Repeat with the 2 remaining sandwiches and remaining 1/2 tablespoon of butter.