The Realtor's Spaghetti Squash Au Gratin
Debbwl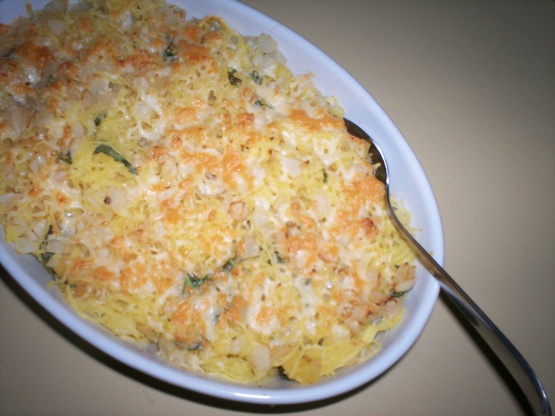 Spaghetti with almost no carbs! It's like magic! If you haven't tried spaghetti squash yet, you should. It's really a great replacement when you're craving spaghetti but can't have it.
Modifications: 1. Crockpot Onions 2. Pecorino Romano 3. Bulgarian Yoghurt (I used White Mountain) Everything else is the same. Instead of using the microwave (cancer, anyone?) I cut it in half and roasted it cut side down on a cookie sheet with parchment paper for 40 minutes at 400°. After preparing the filling as directed, I filled the shells back up and baked them following the suggested time and temp. Not moving them from the center rack, I then broiled them for 5 minutes. So delicious! This is going in my special recipe box.
Heat oil in skillet and cook onion and garlic until soft and fragrant, 6 minutes.
Preheat broiler.
Place scraped squash in bowl, add onions and garlic, basil, salt and pepper and toss well.
Place mixture in buttered 1 quart baking dish. Sprinkle with cheese and broil for 2-3 minutes until JUST starting to brown.
Serve immediately.