The Burger Bar - Tyler Florence
bobpet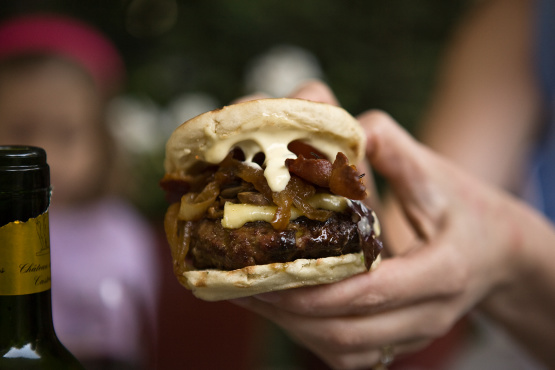 Courtesy of Tyler Florence from Tyler's Ultimate. These looked and sounded so good that I posted this for all to share. June 10/2009 - we keep on making these and here are some of the ideas. We grilled the onions instead of caramelizing them on the stove, added Dijon mustard to the herbed mayo & added it with the scallions & chopped-up parsley & also, added Cheddar both white & sharp (added a nice kick)!

These were AMAZING! I've had great burgers at restaurants before, but never felt like I pulled off a great burger at home. These are the one and only burgers I'll be making from now on!!! I did add a little worcestershire sauce, a few egg yolks and a pat of butter to each patty (the barefoot contessa way) but really, the star of the show with these burgers are the great toppings. So much better than just typical burgers. And the biggest news of all? My dad, an amazing chef, who NEVER asks for recipes of dishes I've made called today, after our Dad's day bbq and asked for the RECIPE. Unbelievable. Thanks so much for posting!
CARAMELIZED ONIONS:.
Heat butter and olive oil in a large pan over medium heat.
Add onion slices, sprinkle with salt and pepper.
Cook slowly until well caramelized, 15 to 20 minutes.
HERBED HORSERADISH MAYONNAISE:.
Stir together mayonnaise, horseradish, minced herbs, olive oil, a squeeze of lemon juice, salt and pepper.
SAUTEED MUSHROOMS:.
Saute mushrooms in olive oil with sliced garlic and thyme leaves over super-high heat until nicely browned, 8 to 10 minutes. Stir in a couple of drops of fresh lemon juice.
BACON WITH ROSEMARY:.
Lay the sliced bacon on baking sheet, strip leaves from the sprig of rosemary and throw them on top of the bacon with lots of black pepper and roast at 400ºF till bacon is crisp, 10 minutes.
TOMATOES WITH SEA SALT AND CHIVES:.
Slice tomatoes, drizzle with olive oil, and sprinkle with sea salt and chopped chives.
ASSEMBLE THE BURGERS:.
Preheat a large cast-iron skillet to medium hot.
Blot a small amount of oil on paper towel and CAREFULLY and quickly wipe the hot skillet to make a non-stick surface.
Season the ground meat in a bowl with salt and pepper.
Give it 3 turns in the bowl with your hands or a big spoon and it's done.
Shape into 4 patties.
When the skillet is hot, put the burgers on the skillet and cook 4 minutes on the first side and 5 on the second side for rare; 7 minutes per side for medium, adding the cheese during the final minute or two, to melt.
Remove the burgers to a platter.
Rub the skillet with paper towel to clean it again.
Then toast the buns cut side down for 1 minutes.
Serve the hamburgers in the buns with accompaniments above.
Enjoy!