Thanksgiving Turkeys (Cookies)
Mom2Rose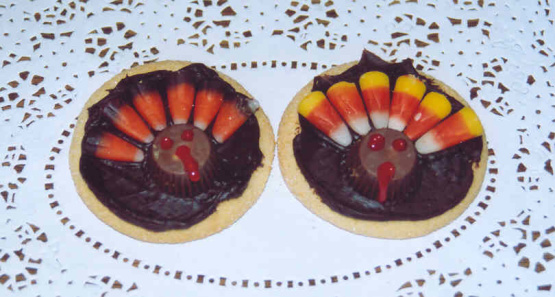 These are not made with real turkey, LOL! My mom made these for me when I was a kid and now I am able to make these with my daughter. Gotta love those family recipes! This is a fun recipe too to have your kids help you with! If you don't want to use peanut butter cups, my mom used to use the Brach's chocolate covered mints (not flat ones) but the ones that were shaped like pb cups.

These turned out SO cute!! I made vanilla cupcakes with chocolate icing and did the turkey design on the cupcake. They were so easy that my 9 year old sister was able to decorate them. We brought them to my grandparent's house for Thanksgiving dinner and everyone loved them. Thanks for the excellent recipe!!
1

(10 count) package sugar cookies, store bought

1

(16 ounce) container chocolate frosting

1

(13 ounce) packagereeses miniature peanut butter cups

1

(8 ounce) package candy corn

1

(1 ounce) package red decorating gel
Spread chocolate icing on sugar cookies.
Unwrap peanut butter cups.
Place pb cup on lower half of frosted cookie.
Fan 5-6 candy corns (tip down) around top of pb cup to make the "feathers.".
Make the eyes and gobbler on the neck with the red gel icing.
Enjoy!
NOTE: This recipe can be adjusted to make any quantity you need.