Thai Coriander Chili Sauce/Pla Krapong Paw
Somogirl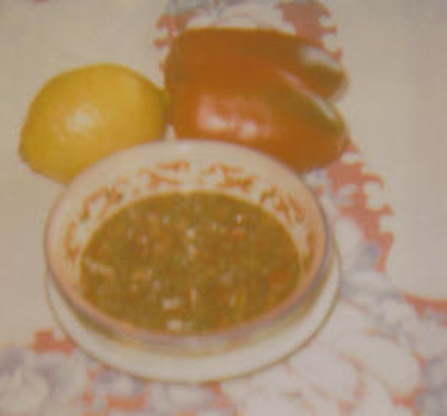 A delicious Thai version of salsa. Everyone I make this for loves it. Meant to accompany grilled fish, but you will find many uses for it. I usually add at least twice as much cilantro and double the recipe as guests will eat all of it. It is just as good the next day. I have mistakenly omitted chili-garlic sauce and still tasty. Use a sweet onion like Vidalia or a red onion if unavailable.
1⁄4 cup red pepper, finely chopped
1⁄4 cup onion, finely chopped

1

tablespoon cilantro, finely chopped

1

teaspoon sugar

1

teaspoon chili-garlic sauce

2

tablespoons lemon juice

3

tablespoons soy sauce

1

tablespoon oil
In small bowl combine and beat a little to blend. Chill until ready to serve.
If serving with grilled or fried fish, dress with several tablespoons of sauce and lemon wedges and remaining sauce alongside. Delicious with steamed rice.
Don't try to substitute green pepper as flavors are not the same.