JustJanS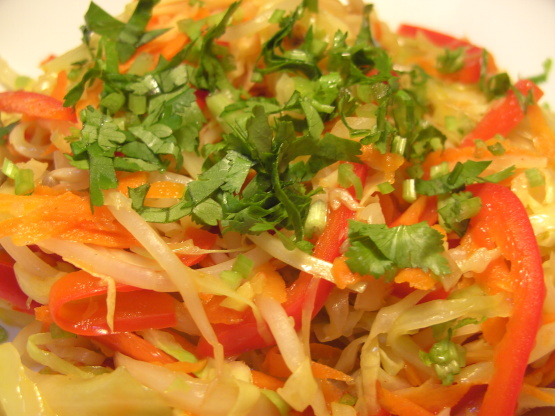 This is a wonderful cabbage salad, served hot! I can't remember where it came from, but I served it tonight with Broiled Tilapia in coconut curry sauce (Broiled Tilapia With Thai Coconut- Curry Sauce) and decided it should be on here :)

After some doctoring, this turned out really good. A little voice in my head said, "don't use 2 Tbsp. chili or you'll be sorry." I cut it back to 1 Tbsp. & still almost died from the heat. I have never seen anything called "chili PASTE with garlic" & I checked several grocery stores & Asian markets. All I found that was close was a "Chili Garlic Sauce" [Tuong ot toi Viet-Nam] and it is hotter than Hades! I did add 1 Tbsp. tamari [wheat-free soy sauce] & 1 Tbsp. toasted sesame oil to the dressing, as well as another tsp. of sugar. I made it again the next night and diluted the heat [chili] by half and that came out just right for us. I definitely will make this again with the adjustments I mentioned. Thanks for sharing this recipe.
Combine the first four ingredients in a small bowl; stir well and set aside.
Heat sesame oil in a wok on medium high heat.
Add ginger and garlic; saute for 1 minute.
Add cabbage, bell pepper, and carrot; saute for 2 minutes.
Add lime juice mixture and bean sprouts; saute for an additional 2 1/2 minutes or until cabbage is tender.
Remove from heat and sprinkle with chopped cilantro.