PanNan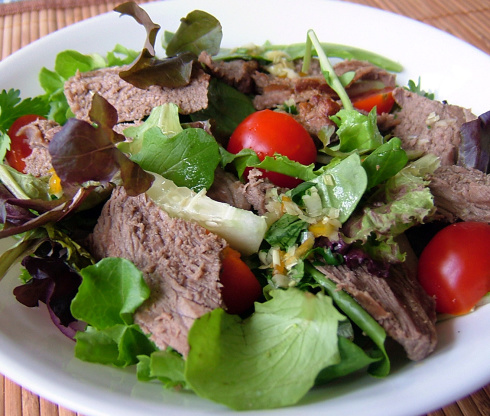 From BBQ food for friends, by Jane Lawson and Vanessa Broadfoot - a lovely, fresh salad with a distinctive coriander-chilli flavour. The ingredient list looks long, but it only takes 10 - 15 minutes to put the whole thing together.

This is very tasty. I did not cook my steak from scratch, but instead used some leftover New York Strip that was sitting in my fridge. Instead of red chiles, I used a dash of sambal olek and it was delightfully spicy. Overall, very delicious and easy to make! Made for ZWT 3.
Mix together lime juice, fish sauce, sugar, garlic, chopped coriander, lemon grass and chilli until sugar has dissolved.
Chargrill steaks for 4 minutes each side or until medium.
Let steaks cool, then slice thinly across grain.
Put salad leaves, onoin, coriander leaves, mint, tomoatoes and cucumber in large bowl, add beef and dressing, toss together and serve immediately.