gailanng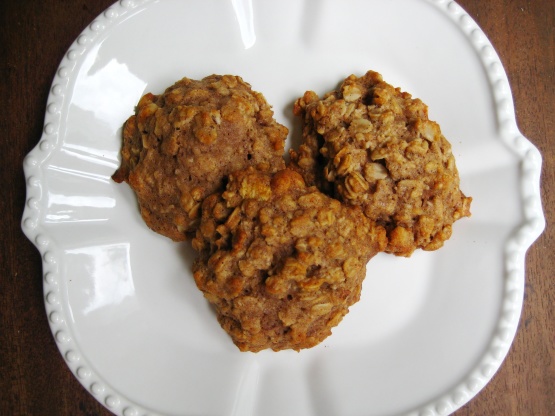 This is another wonderful recipe I got out of a book sent to me by my wonderful swap partner and friend Tammie. These cookies are surely big, but dissappear in no time. I like their crunchy yet soft texture and sweet (but not overly sweet) cinnamony taste. Feel free to add raisins or other dried fruits to this.

these cookies are terrific!! I made them more Texas size by using an ice cream scoop and only got 11, but that is good. I too, added more cinnamon and may add raisins next time, but really not necessary...
Mix sugar, baking powder, soda, flour and spices. Add oats.
In a separate bowl beat egg, oil, applesauce and milk until well combined. Add to dry ingredients. Stir in nuts or granola. If adding dried fruit, fold it in now.
Drop by tablespoons onto paper-lined baking sheet leaving some space between the cookies (I had to use two baking sheets).
Bake in the preheated oven at 375°F for 12-15 minutes until nicely browned and soft yet not wobbly in the middle (it might take longer and you might have to cover the cookies to prevent them from burning.).