gailanng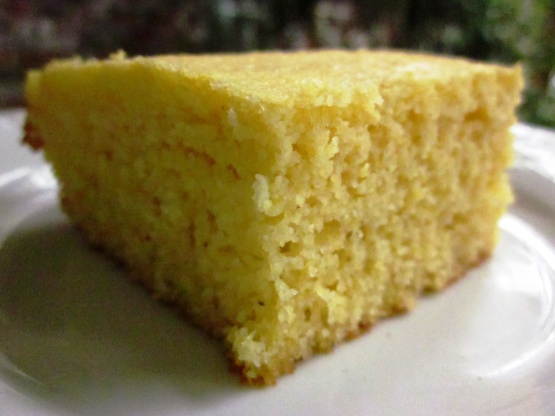 I want to share here this classic recipe which traveled to Texas with the settlers and it is served at Luby's Cafeterias in Texas. The buttermilk in this recipe makes it extra moist and delicious. Enjoy it.

Pepper, my cockatiel, must have gotten to this first from some evident spots with nibbling...and his look said it all. He's definitely the responsible party; I can tell...proud, too. New word: Birditute--a bird with an attitude. We need mediation. Could you drop everything and come over?
Preheat oven to 425º F. Grease generously a 10-inch cast iron skillet, or a 9-inch square baking pan.
In a large bowl, whisk together milk, buttermilk, eggs and oil until blended.
Add cornmeal, flour, sugar, baking powder and salt. Mix just until dry ingredients are moistened.
Pour into greased pan and bake 20 to 25 minutes or until golden brown and a wooden toothpick inserted into center comes out clean.
Cool and cut in 3 inch - 9 squares.