2Bleu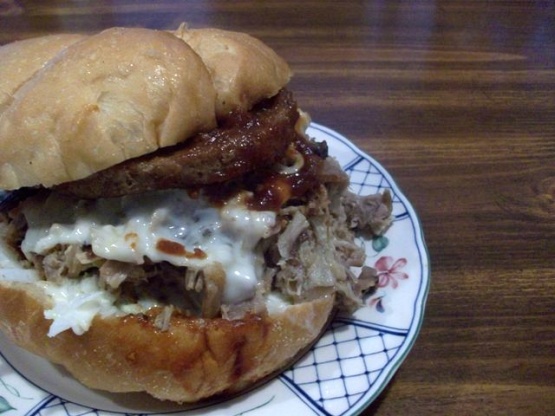 Very big, very southern. This is Texas, and THIS is definitely a 'man' sandwich! Notes: If using Pulled Pork Chili in Biscuit Bowls for the pulled pork, then you will not need the prepared chili.

Made this recipe using some homemade chili, shredded pork that I almost always have in the freezer! Extremely easy to put together, & VERY, VERY NICE TASTING! Definitely want to make this again & have all the ingredients out for guests to put together however they like! I'd make up a coleslaw of my own, some homemade chili & homemade BBQ sauce, along with the other ingredients (I'd even 'steal' a tip from another chef (chef #679953 & his recipe #305506) & make the hamburgers with a sliced ring of pineapple inside)! Thanks so much for sharing your recipe! [Tagged, made & reviewed in Please Review My Recipe tag]
Slice rolls and place in microwave for 10 seconds to warm.
To the bottom bun, layer all the ingredients, dividing equally amongst the two.
Cover with top bun and enjoy.
CARAMELIZED ONIONS: In a skillet, melt 2 tsp butter with 1 tsp olive oil over medium heat. Add the sliced onions then sprinkle with 1/2 tsp of brown sugar. Cook, stirring occasionally, for 20-30 minutes or until onions become golden brown and tender.