Teriyaki Shrimp and Scallop Kebabs
teresas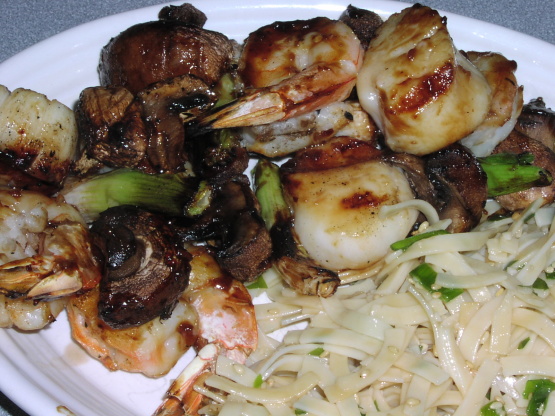 These taste so awesome! We served them over chilled parsley-garlic noodles tossed with some lemon or lime juice, olive oil, soy sauce, chives and toasted sesame seeds. Make the glaze the night before so as to cut down on last minute to-do's. Found this in Cooking Light, 2003.

Excellent recipe!! It is very similar to recipe #237064 but not as spicy. I highly recommend this for those who on the lower scale when it comes to heat. Wonderful flavor and easy to prepare. DH gave it a big thumbs up. Will be making it again. Thanks for posting DiScharf.
GLAZE:.
Combine first 6 ingredients in a small saucepan over medium-high heat.
Bring to a boil, and cook for 2 minutes.
CORNSTARCH MIXTURE:.
Combine cornstarch and water.
Stir cornstarch mixture into soy sauce mixture.
Bring to a boil; cook 1 minute.
KEBABS:.
Thread 2 shrimp, 2 scallops, 4 mushroom halves, and 3 green onion pieces alternately onto each of 8 (12-inch) skewers.
Brush kebabs with oil, and place on a grill rack coated with cooking spray; cook for 3 minutes.
Turn kebabs, and brush with half of soy sauce glaze; cook for 1 minute.
Turn kebabs.
Brush with remaining glaze; cook 1 minute or until seafood is done.