Pam-I-Am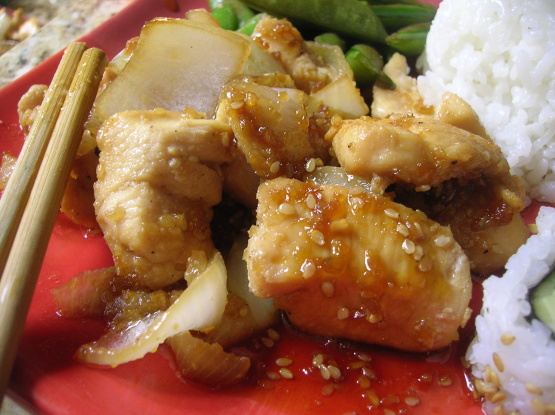 I had Teriyaki Chicken from a place called Shanghi Express in a Mall in Auburn Alabama. I worked for years trying duplicate this recipe. I believe this is it. The instructions sound more involved than they are. This is a quick stir-fry and so easy.

This is an excellent teriyaki recipe that I have made several times. The chicken always comes out moist and very flavourful using Peaceful Solution's marinade.I serve it with egg rolls and fried rice as suggested, and it has now become one of my most requested meals.
1

large white onion, cut in half and quartered or thick half circles
teriyaki marinade (see my Teriyaki Marinade or Sauce)
salt and pepper
Cut chicken into bite-sized pieces.
Pour enough marinade to coat chicken and mix together.
Refrigerate at least 20 minutes.
(To retain moisture during high temperature cooking.) You can refrigerate over night before cooking.
Heat a heavy wok or skillet and drizzle oil down sides and coat bottom.
It is important to have sufficent oil so the meat doesn't stick to the pan.
Excess will drain off.
Allow it to heat until it is slightly smoking.
Keep heat high and cook small batches of one cup or less of chicken pieces at a time.
Allow pan to heat for a few seconds between batches.
Cook each batch until barely done.
Chicken should be"blackened" if your heat is high enough.
When all chicken is cooked return it all to the pan and make sure it is completely done.
Dip out the chicken, leaving the excess oil in the pan and quickly stir-fry the onion and add it to the chicken.
Salt and pepper to taste.
Serve with fried rice and eggrolls, if desired.