Ten Clove Garlic Marinade

This can be used for any meat as long as you like garlic a lot.
Directions
In a bowl, whisk together vegetable oil, Worcestershire sauce, soy sauce, steak sauce, water, salt, pepper, onion, and garlic until thoroughly mixed.
Pierce several holes into meat with a sharp knife, and place in a shallow dish.
Stir marinade once more and slowly pour over meat, smothering the top with garlic and onions.
Cover and refrigerate overnight, or up to 35 hours. Cook as desired.
Most Helpful
I'm pretty good at taste and this is great! I bought a huge package of chicken tenderloins yesterday and made your marinade so I could freeze 2 large zip lock baggies full. We will be grilling one of them on Sunday, but if looks (and taste) could kill-this one is dead on! Made for CC 2014

A wonderful marinade that is full of flavor! I made this exactly as directed, using HP Sauce for the steak sauce. I probably could have only made half, as I had a lot leftover, and I hated seeing it go to waste. I used a 1-1/2 lb. top sirloin london broil, which I prepared on the grill. The steak marinated approximately 8 hours, which was more than enough to impart wonderful flavor to the meat. A real keeper! Made for ZWT 8.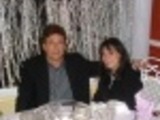 Great, flavorful marinade, it smelled sooooooo good on the grill! I used it for a 3-1/2 pound London Broil and marinated it for the 35 hours. I used shallots instead of onion, omitted the teaspoon of salt, and I added 2 tablespoons of brown sugar and about a tablespoon of fresh grated gingerroot. I used A-1 for my steak sauce . I didn't find this too salty at all, actually it would be fine with the teaspoon of salt. I think this is a great marinade for steak and I think it would be good on pork too. I think it would be too bold for chicken though. Thank you for the wonderful recipe-I will use this for my London Broil again!