Tater-dipped Oven Fried Chicken
BarbryT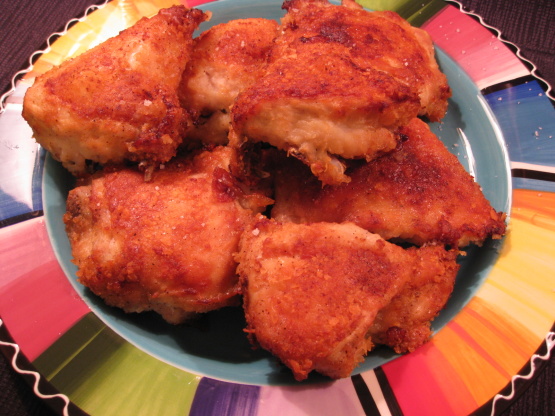 Crispy oven fried chicken without the mess! This is a perfect week night meal because not only is it easy to prepare, it tastes great too. Whip up some mashed potatoes and you've got a real comfort meal!

I made this on 9/22/08 for mine and SO's dinner.As Chef Jellyqueen did, I used boneless skinless chicken breasts and used garlic powder instead of garlic salt. I also added a bit more seasoning salt than the recipe called for.I didn't know what you meant by seasoned pepper, so regular ground black pepper was used.Since I used boneless skinless breasts, the baking time was cut back to 45 minutes.The chicken never did crisp up, but that was o.k. it was still good enough to be made again. Thanks for posting and, "Keep Smiling :)"
Heat oven to 400 degrees Fahrenheit.
Place margarine in a 13 x 9-inch baking dish; melt in oven.
In plastic bag, combine potato flakes, garlic salt, seasoned pepper, and seasoning salt.
Add chicken one at a time and shake in the plastic bag.
Place chicken skin-side down in melted margarine.
Bake 30 minutes, uncovered, turn chicken.
Bake 30 minutes more.