Debbwl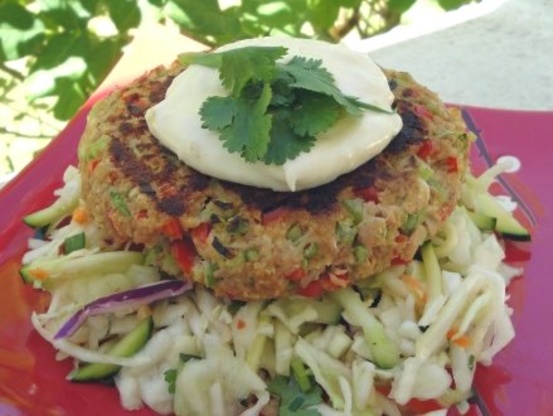 Easy and quick to put together, these burgers deliver in the taste department too. Made for the Raiders of the Lost Pantry Contest, 2013

These are terrific tuna burgers! I used regular breadcrumbs instead of panko, otherwise made as directed. Cooked them undisturbed for about 5 minutes on each side and they got a nice crust on them. I used spinach for the greens on the sandwich. Easy to make and full of flavor - thanks for sharing the recipe!
If baking(you can also fry-instructions below), preheat oven to 450 degrees F.
In a small bowl, mix sauce ingredients. Place 2 tbls. of the sauce in a large bowl. Cover and chill the remaining sauce in the fridge.
To the same large bowl, add the eggs, panko, soy sauce, and Thai chili sauce. Break up the tuna and add to the bowl. Add celery, green onions and red bell pepper. Salt and pepper to taste. Stir and let stand about 10 minutes.
Using wet hands, shape the tuna mixture into 4 patties, about 3/4" thick.
If you want to fry them, put the oil in a skillet and heat on medium high heat. Turn down the heat to medium and add burgers and saute about 4-5 minutes each side, turning gently.
If you bake them, place on baking sheet. Bake at 450*F. for 10-12 minutes.
To serve, spread sandwich buns with remaining mayo/ginger sauce. Add patties to the bottom half of bun. Top with baby greens, and top buns.
Enjoy!