Tamarind - Date Chutney ( Sweet Indian Chutney)
sadhaka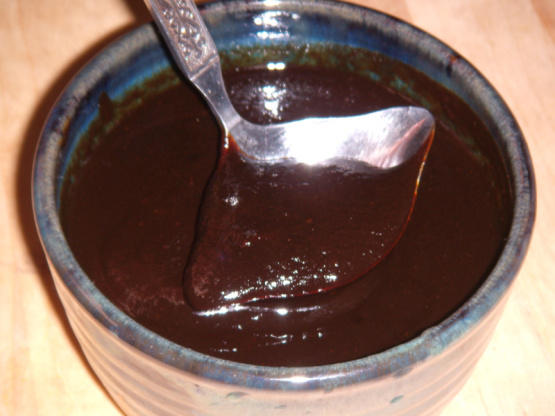 The quantities are guesstimates. You can adjust everything for your taste. Updated 4/3/06 - Addition of ginger powder. Improved the steps

This is a real winner in my book!<br/>I left the lid off the date concoction for cook time of two hours. I wasn't sure whether to keep lid on or off. A lot of the water evaporated so I ended up having to add water because it was very thick.<br/>The flavor after a night in the fridge...one word: WOW. <br/>I made this chutney along with Cilantro Mint chutney to go with Samosas and Chickpea Fritters.<br/><br/>This Tamarind-Date Chutney would be good just to have a staple in the fridge. I can see it going well with a lot of things. It's almost like jam only way better with it's sweet and sourish plum like tang! <br/>It makes a pretty big batch, too.
Place the jaggery, dates and water in a deep boiling pan for about 2 hours.
After the dates become smooth, blend in a mixer till smooth.
Strain and transfer to the pan again.
Add the tamarind paste and seasoning.
Boil till thick enough to coat the back of a spoon thinly.
Cool again. Store in clean airtight bottles and refrigerate.
Shelf life of about a month in the refrigerator.
* Here, I have used tamarind paste. But in case you do not have tamarind, soak the tamarind in water and extract its paste.
What I usually do is use dry tamarind powder which I get from Indian grocery stores.