Tam Taeng ( Cucumber Salad)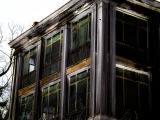 The Thais, like other people who live in hot climates, are quick to appreciate the refreshing qualities of the cucumber. This simple salad is very popular and very rarely varied. Scouring the cucumbers decoratively, as the Thais would do, makes this dish visually alluring. This recipe comes from a great little book called 'The Best of Thailand'.
Directions
Cut cucumber halves into 2-inch long sections, then cut each section into 1/4-inch thick strips or thick matchsticks.
Place cucumbers in a bowl.
Add the lime juice, sugar, and Nam Pla and toss gently until well combined.
Add onion, chilies and tomatoes and toss gently until well combined.
Garnish with whole chilies and coriander sprigs.
Most Helpful
This tasted OK, the fish sauce was rather overpowering in this, though, so if you're not a fan, perhaps give it a miss.