Tajine Msir Zeetoon - Moroccan Chicken With Lemons
Coasty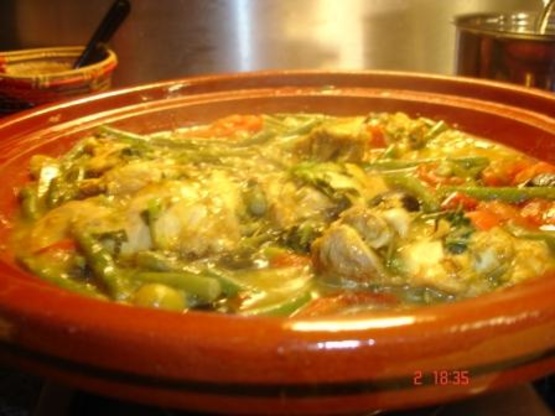 Moroccan Chicken with lemons and three types of olives. If you like sour/lemon flavours then this dish will be suitable for you. This dish is very easy and preparation time is only 10 mins and 30 mins to marinate. The recipe requires 1 chicken cut into serving pieces but I used 8 chicken pieces (thighs & drumsticks) with skin off. I don't normally have fresh coriander regularly available but I used 1 teaspoon of coriander powdered. It comes from a book called 'The Olive Oil Cookbook' by Marlena Spieler.

Top Review by Coasty
My family really enjoyed this dish. The flavours where intense Will definately be making again. Just a couple of changes - I didn't have enough lemons, so I added sliced preserved lemons instead of lemon wedges. I had the fresh coriander so used that and I cooked it on the stove top in my new tangine. To balance out the sharp citrus taste and served this with steamed couscous studded with currants and pinenuts. I made this as part of Recipe Swap #35
The Chicken

1

chicken, cut into serving pieces (thighs or drumsticks) or 8 chicken pieces (thighs or drumsticks)

Marinate

1

tablespoon cumin

2

teaspoons paprika
1⁄2-1 teaspoon ginger
1⁄2-1 teaspoon turmeric

5

garlic cloves, chopped
fresh coriander, Several handfuls, chopped

2

lemons, juice of
black pepper, ground (to taste)
cayenne pepper, ground (to taste)

3 -5

tablespoons flour

Sauce

4

tomatoes, chopped (either ripe or canned)

10 -15

green olives (See note below) or 10 -15 black olives, drained (See note below)

1

lemon, cut into 6 wedges

50

ml extra virgin olive oil

250

ml chicken stock

Extras

1

lemon, juice of, to taste
Combine the chicken with cumin, paprika, ginger, turmeric, garlic, coriander, lemon juice and peppers, and place in a baking dish in a single layer.
Leave to marinate for 30 mins, then add the flour, and toss together to cost well.
Heat the oven to 160oC/325oF/ Gas Mark 3. Add the chopped tomatoes, olives, lemon wedges, olive oil and stock to the dish.
Bake uncovered for about an hour or until the chick is tender and a delicious sauce has formed.
Note on olives: You need to have 10-15 each of three types in total you can choose green olives of your choice, black olives, cracked olives, oil-cured olives, purplish-red olives, Kalamata, pimiento-stuffed green olives, etc.