Rita1652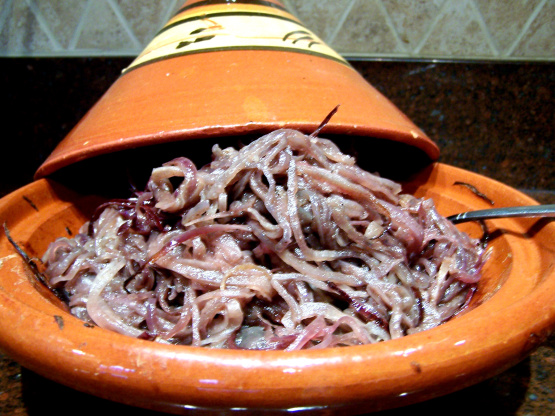 *This smells like heaven while baking!

Enjoyed using almost 2 pounds if onions and 1/2 the oil. Just love the cinnamon. I did bake in a tagine for just over 1 hour because I didn`t have time to change or remove the lid. Thanks! I have a lot left over and will grill some meat tomorrow for the onions. ;)
Place the onions in a shallow baking dish (preferably with a lid) and spread them out evenly.
Mix the remaining ingredients in a small bowl, then pour over the onions and stir gently to coat.
Set aside for 2 hours.
Preheat oven to 325°F
Cover dish with foil tightly, then the lid and bake for 45 minutes, until the onions are very soft.
Increase the oven temp to 400°F, remove lid and foil and bake for 5-10 minutes more until the onions are lightly glazed.
Serve with grilled meats.