loof751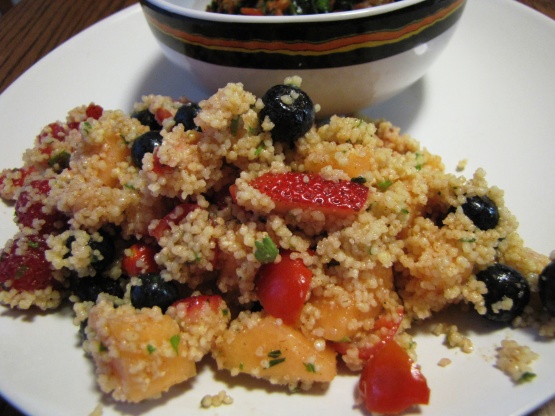 Be adventurous, taste fruit in a whole new way! Fresh fruit is spiced with an intriguing mixture and served with bulgur wheat. From Prevention Healthy Cooking. Note: You can also use couscous.

WOW - this is just outstanding!! Per your note in the intro I used couscous, and I left out the onion as I don't care for it, otherwise made just as specified. The orange juice gave the couscous a sweet flavor that was great with the fruit, and the tangy/savory dressing really brought this all together. I'm so glad I tried this - it's a keeper - thanks for posting!
In medium bowl, combine orange juice and bulgur.
Let stand 30 minutes or until bulgur is tender and softened.
In small bowl, whisk together lemon juice, oil, cumin, cinnamon, salt and pepper.
Drain bulgur and place in large bowl.
Gently stir in tomato, cantaloupe, strawberries, blueberries, raspberries, onion, parsley and mint.
Pour lemon juice mixture over salad tossing to coat well.
Let stand at least 15 minutes to allow flavors to blend.