Szechwan Chicken over String/Green Beans
Pneuma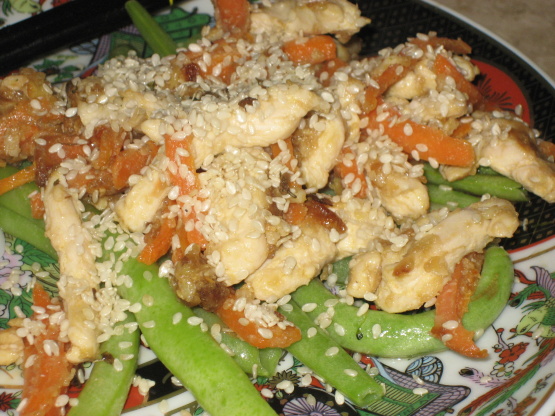 Adapted from a recipe I found at the Grocery Checkout aisle. Original recipe calls for pork over spinach. Our local Asian Bistro uses string beans and chicken is my favorite. I haven't tried yet - posted for Chinese New Year tag game.
Heat 1 teaspoon oil in large skillet over medium-high heat. Add carrot strips. Cook 3 minutes, stirring occasionally. Add chicken, garlic, ginger and red pepper flakes. Stir-fry 3 minutes or until chicken is no longer pink. Combine soy sauce, mirin and cornstarch in small bowl. Add to chicken mixtures. Stir-fry about 1 minute or until sauce thickens. Remove to bowl and cover to keep warm.
Meanwhile blanch green beans in a large saucepan of boiling water for 4 to 5 minutes. Immediately shock the beans in a bowl of ice water. Drain and pat dry.
In same skillet chicken cooked in, add remaining 1 teaspoon oil. Add green beans and cook about 1 minute or until warmed through.
To serve put a bed of green beans on each plate and cover with chicken mixture. Sprinkle with toasted sesame seeds.