teresas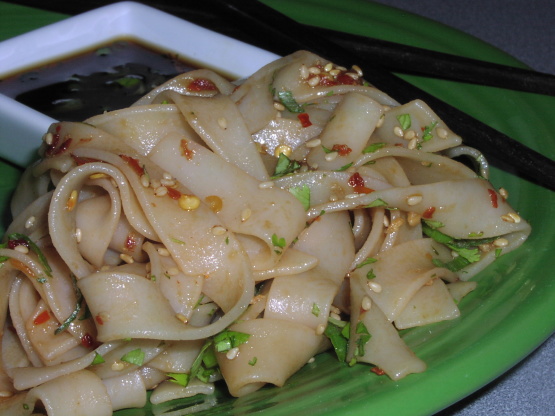 I love Asian noodle dishes, especially the spicy ones! This one's just hot enough; add more heat if you like. I also like the flavor of both the sesame oil and sesame seeds in this dish, and I toast the seeds until they're nearly brown. This makes a nice and quick side dish for dinner, or a tasty light lunch.

I gave this a 5 * while DH gave it a 3*. I loved all the flavors including the vinegar. I did decrease the vinegar during step #2 and did a taste test and added the rest of the vinegar for the tartness. I love hot and spicy dishes and this didn't disappoint me. DH was surprised that it was cold and not hot. I think that's what disappointed him the most. I should have warned him a head of time. I did use wide rice noodles because that is what I had in the cupboard, so I was on a hunt to use them up when I found this recipe. Thanks for posting. :)
Cook the noodles until al dente, then drain and rinse with cold water; drain again and toss with the sesame oil and peanut oil.
Combine the sauce ingredients and correct seasoning, adding more heat if you wish.
Toss with the noodles and garnish with green onion and cilantro.
This is traditionally served cold or at room temperature.