diner524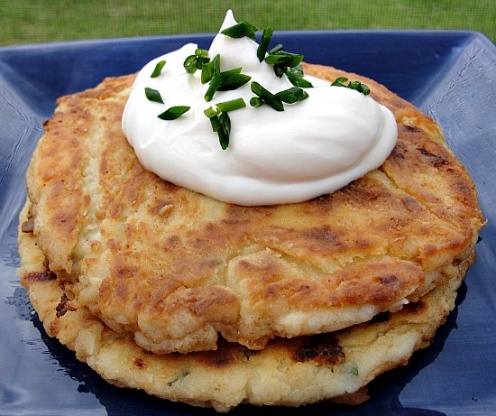 This stuff is really good for breakfast as an alternative to Oatmeal. It is heavy, filling, and extremely good. I got it from Russiansabroad.com.
Wonderful savory potato pancakes!! I made this as written, but left out the sugar and raisins, as I wanted a non-sweet pancake, but did add some sliced chives. Served with some sour cream and additional chives. This was so feeling and yummy!!! Thanks for sharing the recipe. Made for Pick A Chef Event.
First clean and peel the potatoes and boil in salted water, drain and mash.
Then drain the cottage cheese, sieve to remove lumps, and mix it with the mashed potato.
Beat in raw egg, salt, sugar and half the flour. (For the sweeter version add raisins and more sugar now.)
Stir well to form a stiff paste.
Work on a floured surface and flatten into thick pancakes about 3 inches in diameter.
Coat them with flour and fry in butter on each side until golden brown.
Serve hot with sour cream well chilled.