Swiss Steak for Two (Crock Pot)
Parsley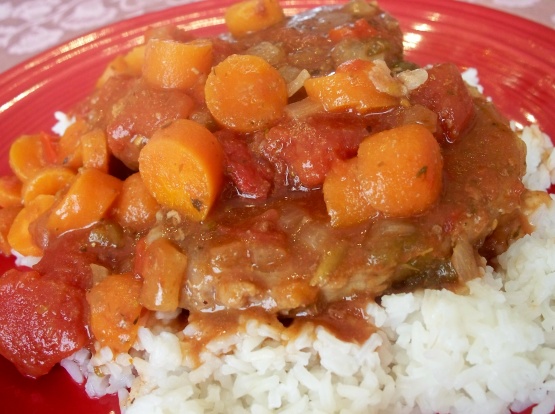 This is so simple and results in the tenderest, tastiest steak. It is very good served over rice.

I thought it was great but hubby did not like it at all. It was very tender and thickened up quite nicely. Hubby said it was the italian seasoning that put him off.
1⁄4 cup frozen mixed vegetables (onion, green pepper and red pepper blend)

1

cup frozen carrots, sliced
1⁄2-1 lb round steaks or 1⁄2-1 lb chuck steak

1

(16 ounce) can stewed tomatoes

1

(8 ounce) can tomato sauce

1

teaspoon garlic, jarred

2

teaspoons italian seasoning
Place items in crock pot in order listed.
Cook on low for 6-8 hours.
The juices in remaining in the crock pot can be thickened into a gravy with a bit of flour, if desired.