2Bleu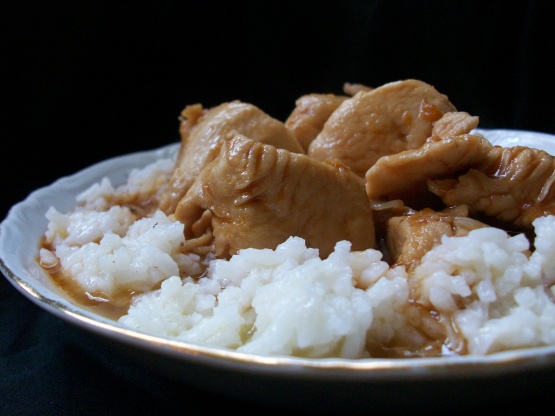 This recipes comes from me trying to "fix" another recipe on the site but it ended up being a whole new recipe. I think it turned out very well, and It's something we really enjoy. Make it as sweet or spicy as you like by messing with the amounts of brown sugar (not the molasses!) and chili flakes. Enjoy! This recipe includes sauce for rice but be careful, if you cook it too long the chicken will soak up the sauce fast, if your looking for more of a sticky glaze, cook it a little longer and leave the lid off during most of the cooking. I have only made it sticky without the vegetables added, so if your worried about overcooking, wait to add or cook them separately. I would also suggest chopping into pieces when raw and pan frying the chicken to help seal it some so it doesn't break down as much when cooking. I would be wary reducing the amount of water to reduce cooking time, as it changes the flavor, and not for the better IMHO.

Top Review by Kitzy
Wow, really tasty! After reading the other reviews I only added half the water, but still needed a tbs of corn flour to thicken it up. The result was extremely tasty. I used turkey leg instead of chicken breast, which gave it a lovely meaty flavour. Thanks!
Place all sauce ingredients in a large chefs pan or anything large with a lid.
Cook on medium heat, stirring constantly, until slightly bubbly and combined.
Add chicken and vegetables, if desired, Stir to coat.
Cook on medium/high heat, covered, for 20-30 minutes (stirring every 10 minutes, more if its a pan that sticks) or until desired thickness is achieved and chicken (and veggies) are heated through.
I like it served over rice.