Derf2440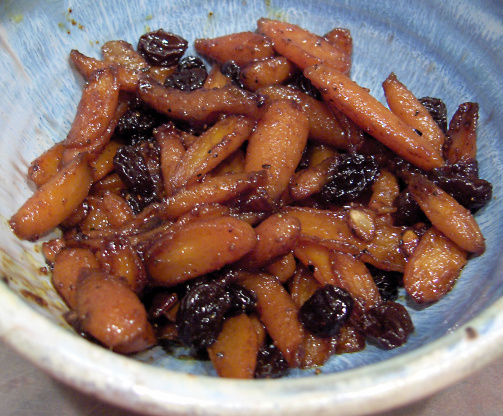 These carrots are a little bit different from all the other carrot recipes - they have an exotic flavor and go well with lamb and chicken.Leave out the raisins but yhey add to the flavor. I like to add a pinch more curry & chilli but it is up to you how spicy you like it

Good concept and good flavors, but I think next time I'll sub hot sauce for some of the chili powder, maybe I was too heavy handed, but the chili powder seemed a little gritty without more liquid in the dish. Loved the sweetness of the honey/vinegar mix.
Heat the oil& butter in a large skillet, over medium heat,add carrots& garlic Sprinkle in the dry spices and saute, stirring almost constantly until the carrots are as tender as you like them (7-9 minutes).
Meanwhile stir together the honey& vinegar.
Pour over the carrots, add raisins and saute, swishing the carrots around Serve immediately for 1 additional minute.