Sweet Potato Split Pea Soup
JustJanS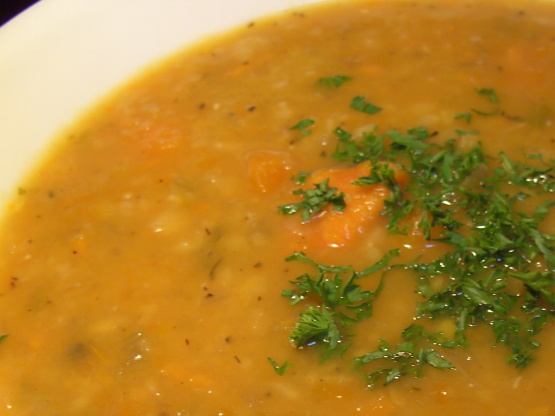 My husband found this in one of our neighborhood papers and asked me if we could try it. All I can say is this was yummy, and has moved into the true conferred food corner of my hart.

Top Review by karen
Great healthy soup and easy too! I stuck with the recipe, making just a few minor changes. I don't like celery so I left it out. I used 1 onion, which was probably a little less than 2 cups, Hungarian Paprika, 1/2 yellow & 1/2 green split peas and chick stock made from a paste (I'm currently out of homemade stock). I like the creamy texture so I pureed it all in the food processor and had a taste before putting it away. I'm excited to be taking some to work for lunch tomorrow.
In large pot over low heat, add oil, onion, celery, carrot, sweet potatoes, garlic, pepper, oregano, thyme, and paprika, stirring to combine. Cook 5-10 minutes till onions, and celery start to soften.
Add split peas, stock, water, bouillon, bay leaves, and bring to a boil.
Reduce heat to low, cover and simmer 60 minutes.
At this point you can serve it as is for chunky soup or puree it in batches for a creamer soup.