Sweet Potato and Kidney Bean Burrito
digifoo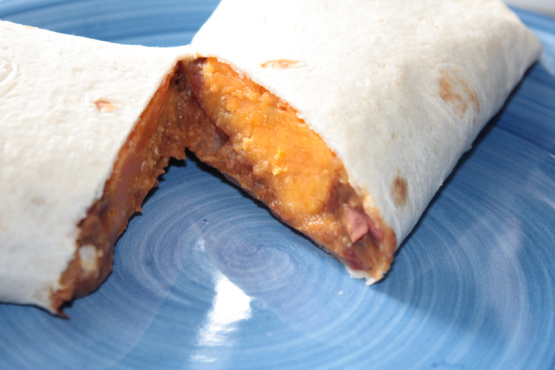 Dinner will be ready in a flash! These are so tasty and wonderfully healthy. High in protein and low in fat. You can also use black beans or cannelini beans. I found this recipe on the internet and altered it to my liking.

I had a sweet potato hanging around for a while and was looking for something to do with it. I actually found this recipe on Allrecipe web site but wanted to rate it so I came here. This was really excellent, such a wonderful blend of flavours. I microwaved the sweet potato for 4 min, made things go pretty quick. The only changes I made were to add some finely minced jalapeno peppers and I had no kidney beans so I subbed canned black beans. I left the bean/onion mixture a bit rough as I like the texture of the beans. Oh, and I forgot to add the water to the bean mixture but I don't think it took anything away from the recipe.
Preheat oven to 350 degrees F.
Heat oil in a large skillet, and saute onion and garlic until soft.
Stir in beans, and mash.
Gradually stir in water, and heat until warm.
Remove from heat, and stir in the chili powder, cumin, mustard, cayenne pepper and soy sauce.
Divide bean mixture and mashed sweet potatoes evenly between the warm flour tortillas.
Top with cheese and roll up the filled tortillas burrito style, and place on a lightly greased baking sheet.
Bake for 12 minutes in the preheated oven, and serve.
Serve with sour cream, chopped green onions and salsa.