Sweet Mustard-Glazed Salmon for the Grill
GaylaJ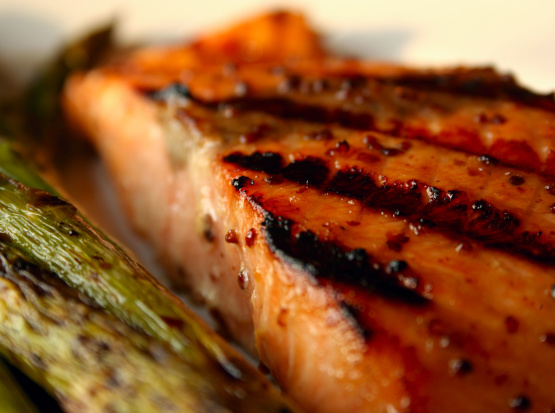 Wild-caught salmon is a huge perk of living here in the Pacific Northwest, and this is one of my favorite ways of preparing it. The sweetness of the brown sugar mixed with two kinds of Dijon mustard compliment the salmon beautifully. I have used both light and/or dark brown sugars and only one kind of Dijon mustard with great success. I've also baked this in the oven for 20 minutes at 375*, but grilling adds a lot of flavor to the salmon.

This was so yummy! I wrapped the salmon in foil on the barbecue, and while this was very good, I think it would be even better if it was thrown right onto the grill without the foil. Easy, quick...and I can't wait to make this again!
Mix melted butter, brown sugar, and mustards together.
Let mixture sit in a cool place for a few minutes to firm up.
Rinse salmon and dry with paper towels so glaze will adhere.
Spread glaze on both sides of salmon filets.
Grill salmon, turning once, for about 5 minutes per side or until done to your liking.