Sweet Fuyu Persimmon Salad
Bergy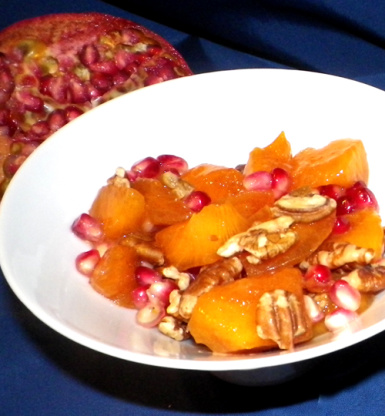 Got this off the internet. Turned out to have a very nice flavor and was beautiful. I also enjoyed the textures together. Be sure to use the firm, flat, non-astringent "Fuyu" persimmon NOT the squishy dry out your mouth kind.
If you need to toast the pecans, you can do so in a dry frying pan on the stove top or in the oven on a cookie sheet.
Stove top would be over medium heat constantly stirring for a few minutes until lightly browned.
Oven at 350 for about 5 minutes, make sure to check after a few minutes and give them a toss. Let cool.
Gently fold ingredients together.
Recommended to serve at room temperature.
refrigerate leftovers.