Sweet Banana Soup, With Tapioca and Coconut
Ambervim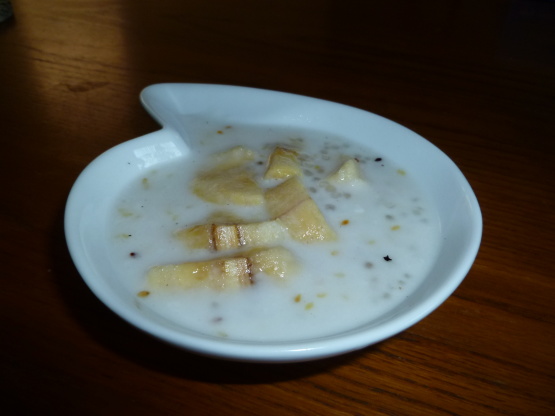 A very common dessert in Hanoi. You can serve it hot, cold, or room temp. I personally prefer it hot in winter (yes it does get cold in Hanoi in winter, very actually!)

I love this recipe for Che Chuoi. The recipe I got from my sis-in-law is almost exactly same, so I wanted to rate yours. I was going to post it for safe keeping, and I'm glad to see you already have it on here. Yummy. Definately one of my fave desserts. =)
Bring water and coconut milk to boil in a medium saucepan.
Add sugar, salt, tapioca.
Reduce heat to medium low, let it cook for about 30 minutes, stir frequently.
Stir in bananas, remove from heat and let stand for 15 minutes.
Note: after you add the bananas, don't stir too much, it'll break up the fruit.
Serve hot, or chill for 3-4 hours.
Cook time not incl.
chill time.