The best healthy, sweet, and moist banana bread ever! No need for sugar or butter!
Directions
Preheat oven to 350°.
Combine mashed bananas and eggs in a large bowl.
Mix in applesauce, honey, and vanilla. Add half of walnuts.
Combine flour, baking soda, and salt. Stir into banana mixture.
Pour batter into greased loaf pan. Top with remaining walnuts.
Bake at 350° for 60 minutes.
Cool bread for 10 minutes before serving.
Reviews
Most Helpful
I'm giving this 5 stars because this was a great banana bread for being healthy. It's not the best I've ever had, but among the best in the healthy category. It rose beautifully and looks rustic and lovely with the walnuts on top! Thank you!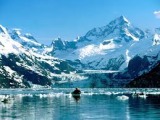 Great recipe, only difference I made was I made muffins with it. I poured the batter into muffin tins and baked for 25 minutes. Other than that i followed the recipe exact and it turned out to be some of the best banana bread I have had.
Sorry, but this didn't work for me. I am not leaving stars that would knock down your average. I found the batter to be too high in wet ingredients in ratio to dry. 4 bananas (and mine were small) and 2 eggs were too much. Maybe 1 egg and 3 bananas. Since two other reviewers seemed to have great success, I guess it is just me, but my loaf took about 80 minutes and it was still too wet inside and too dark outside. My oven works fine, so temp. was right.