Sven's Schoggikuchen (Wet Chocolate Cake)
awalde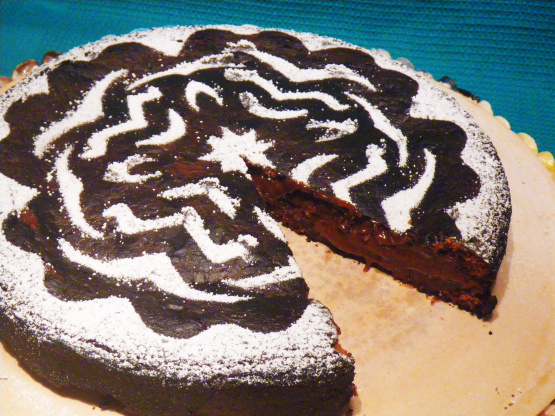 This cake presented by the modarotor Sven Epiney is now a famous recipe in Switzerland.

A neighbor of mine was happy to let me bake this cake at her place ~ Well, happy to let me use her convection oven as long as she got half the cake, anyway! That was good enough for me, & the 4 of us chocoholics had several wonderful fixes over a two-day period! Definitely a winning recipe! Thanks for sharing it! [Tagged & made in Please Review My Recipe]
Preheat to oven at 250°C (480°F).
Mix well with a food processor flour, sugar and eggs.
Melt your chocolate with the butter in small pan or in the microwave.
Add the chocolate mixture and the Kirsch to the dough. Mix well again.
Prepare your baking mold (24 cm / 9.4 inch) with butter and flour.
Transfer your dough.
Bake your cake at 250°C (480°F) for exactly 11 Minutes (heat and timing are basing it on convection oven).
Decorate with icing sugar before it's completely cold.
The cake should be still wet inside!
Enjoy and -- the day after is even better!