Susie Smith's Sesame Lemon Chicken
Zurie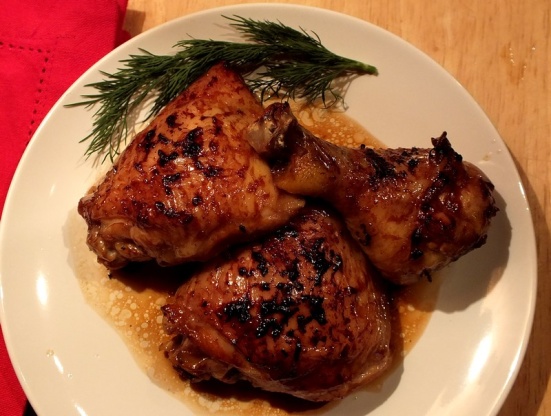 Years ago, my grandmother got this recipe from my aunt's first grade teacher! I don't like chicken all that well, but this recipe is delicious. ***Marinating time is not included in cooking and preparation time.

Top Review by Zurie
Made for PAC 2012. This is really delicious! I had my doubts at first, but followed the recipe and marinated the chicken pieces for several hours. I added a little more sugar to the marinade, but that's the only adjustment I made. Due to grey, rainy weather grilling was not an option, and I oven-baked the chicken, basting frequently. Maybe I should mention that the tiny amount of sesame oil could not be tasted, so maybe a little more is needed! The chicken pieces baked beautifully, with the skin puffing up! I'm sorry the photo is a little dark, but I had to use the kitchen lights -- daylight was fading fast by the time the chicken was ready. The dark bits are not burnt -- it's merely the way the soy marinade darkened as it baked! I served the large dish of chicken pieces with brown basmati, steamed butternut, and thinly sliced cabbage flash-cooked in butter and a little lemon juice, with a side salad. Thanks, Elisechristiane, for a lovely recipe!
Marinate the chicken for several hours, turning at least twice.
Grill the marinated chicken at about 35 minutes, basting every five minutes.