Super Easy No-Cook Pizza Sauce
Tee Lee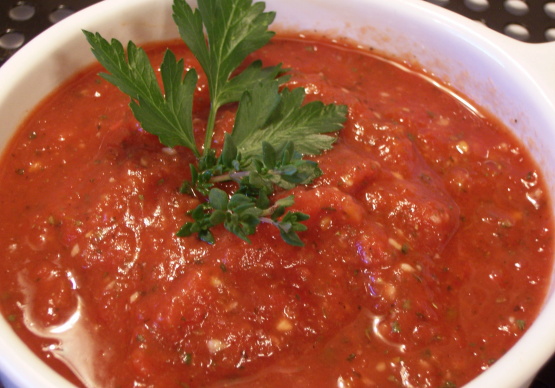 I was looking around my pantry for pizza sauce recently, and didn't find any, so I whipped this up, and it was delicious and very easy! Fresh herbs can be substituted for dried ones when in season.

This was the easiest sauce to make and it tasted great! The best part is, I always have these ingredients on hand. I did think the sauce was a little bit watery, but I have found that draining the tomatoes and using a couple tablespoons of tomato paste makes it perfect. Recipe #236785 works great for a crust. Will keep making this over and over again! Thanks!
Place all ingredients in a food processor or blender and process until the mixture is somewhat smooth (a few chunks are nice).
Use with store-bought pizza dough, Boboli bread, or your own homemade pizza dough, and top and bake as normal.