Sundried Tomato and Olive Polenta - Ancient Renaissance Recipe
Mivashel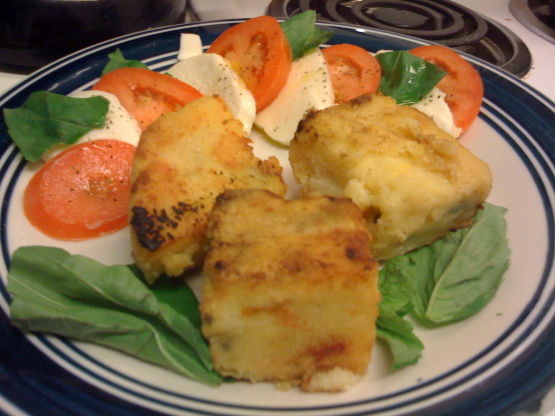 Great simple Italian recipe; takes no time to whip up, and is guaranteed to please everybody in your family. It's a nice recipe that was passed down from generation to generation; It's a cheap peasant meal that was found in the original untranslated transcript of an old Petrarch poem. Try making it once, and you will see why this recipe has stood the test of time.
boil the vegetable broth; once boiling, stir in the polenta - let it simmer on low heat while stirring frequently for 15 minutes.
Remove from the heating element; stir in the crumbled feta, shredded parmesan, chopped sundried tomatoes, chopped up basil, and sliced olives.
once stirred in evenly, put the mixture in a GREASED cake pan (or any circular or square shaped container of similar diameter) and spread/press down evenly.
let the mixture firm up in the refrigerator for a minimum of 2 hours.
once firm, cut the firm polenta mixtures into slices (approximately 16); coat in flour, shaking off excess.
fry the floured polenta in olive oil until nicely browned; then drain on paper towel.