Sun-Dried Tomato Pesto Chicken Pasta
Tisme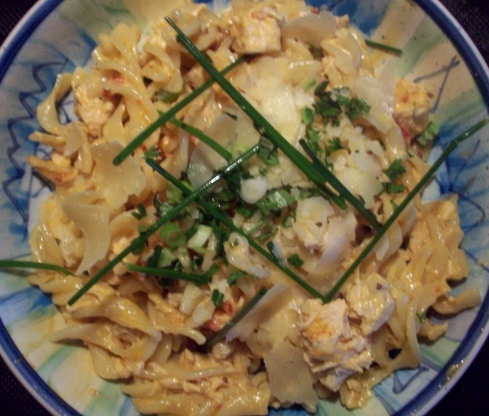 This is a super quick tasty recipe that is the perfect after work fast meal, it is not only perfect for when your in a hurry, but I always make extra as it reheats fine the next day, if the pasta is a little dry all you have to do is add a little cream. It can all be cooked in the same pan so you save on washing up and there are no steps, in fact you don't have to cook the chicken first, remove set to one side, then cook onions etc... It is all added one ingredient after the other, which when you want something on the table with out fuss makes this a great meal.

This was excellent but I did have a slight change in one ingredient. I had some leftover basil pesto in the fridge so used that in place of the sun-dried pesto and then added a few additional sun-dried tomatoes. This is also very good made with Italian Sausage or a sausage & chicken combo. Thanks for sharing your recipe!
Bring some water to the boil, add a little olive oil, add pasta cook until just tender. (al dente).
In a large fry pan heat a little olive oil, add chicken cook to brown, add onion and garlic cook until onion softens.
Add wine, sun-dried tomatoes, pesto and mustard stir to combine.
Add creams and cheese, bring to the boil, turn down heat, stir to melt cheese, add cooked pasta stir until heated through.
To Serve: Place spoonfuls of pasta in bowls, sprinkle with cheese and parsley.