Sun-Dried Tomato Dressing
flower7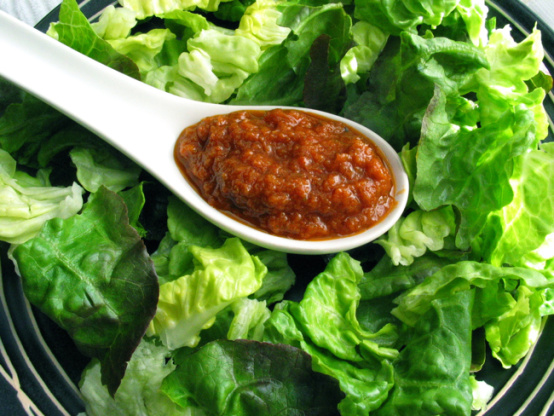 This thick dressing doubles as a topping for burgers or as a dipping sauce for shrimp. Thin with a 1/2 cup water if you like a thinner dressing. Taken from Relish magazine.

Delicious! Tart but tasty :) I LOVE tart dressings so did not have an issue with the tartness. I did not have enough of either cider or wine vinegar so used about half and half. Hm, now that I think about it I may have forgotten the sugar so that might account for the tartness! LOL Ah well, I like it as is so will not be adding any now :) I started by using this on lettuce but am looking forward to using it in other ways. Thanks for sharing!
Combine all ingredients except oil in a blender or food processor. Pulse until all tomatoes are finely chopped.
Add oil, a little at a time. Pulse until thick and well blended.