Summer Mexican Shrimp Cocktail Served in a Large Glass
Ronbiz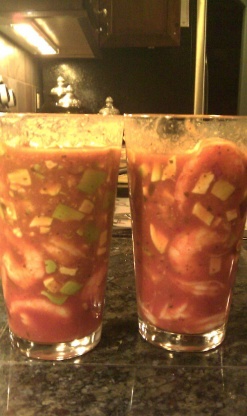 A true delight served in a large glass, similar to what you might get at a great Mexican restaurant off the beaten path. Quality ingredients are the key. Costco has a shrimp marinated with cilantro that make this recipe super EASY. This is super for a party you can put all the ingredients in and hand them out. (to serve immediately you should use pre marinated shrimp)
Take 4 Pint size beer glasses or mugs.
Load each with Shrimp to cover just under 1/2 the mug.
Add catchup to each.
add 1/2 avocado to each cup.
add 1/4 of the onion, cilantro, cucumber,.
Squeeze the juice of a half of each lime into each glass.
I like to cut a little bit of the lime pulp to put in each.
shake of salt and pepper into each glass.
add some OJ to each glass to get them to about 1/2 inch from the top. Gently stir until mixed.
Take remaining lime and quarter to put on the top of each glass.
BEST option refrigerate for 1 hour and serve. (note to spice up add one shake of tobasco to each.).