Sublime Roasted Apricot Chicken
Zurie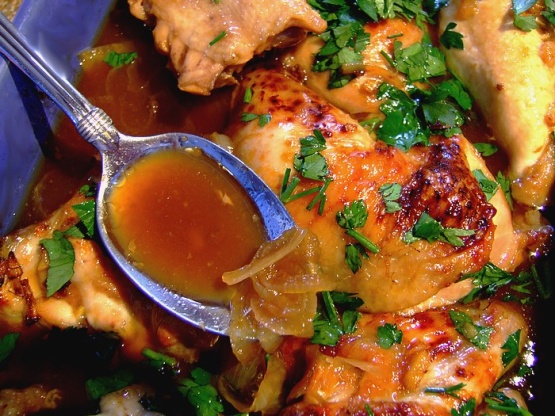 This is a great chicken to serve to company or whenever you need a really good but easy chicken dinner. I make this all the time and everyone loves it.

Top Review by Zurie
Could be 5 star, but I made a few adjustments. A very nice, quick, easy recipe!! I used the 1/2 cup apricot jam (love apricot jam: so versatile!). But I whisked in only 1/2 cup water because otherwise the sauce would have been too thin, added 1 tablespoon soy sauce (Tamari) and 2 tablespoons fresh ginger, chopped. I also seasoned the chicken lightly with a seasoning salt before putting it on the layer of onions -- I liked the idea of a layer of onions, and used 2 onions! I didn't use stuffing, and was out of bay leaves. I added the parsley in the photo just for a little colour; meant to do better photos but it didn't work out!!! The oven temperature was too high for me, and I put it on 350 F/180 C, which was fine. Lovely taste -- we're having it with lentils and cauliflower, and a salad.
Layer a large roasting pan with onions. Place the chicken with your favorite stuffing or without on top of the onions.
Sprinkle to cover the chicken with onion and garlic powders. Spoon the jelly over all the chicken. Pour the water over the chicken. Add the bay leaves to the water.
Cover well and bake in a 425 oven for 1 hour. After 1 hour turn the chicken over so that both sides get nice and juicy and continue baking for another 1 1/2 hours.
Remove foil or other tight cover and make sure the skin is topside up and allow to brown for another half hour. Serve with your favorite side dish and enjoy!