2 lbs beef chuck, Ground
1 (8 ounce) can tomato sauce
1⁄2 cup taco seasoning mix
2 tablespoons taco seasoning mix (Total Amount of Taco Seasoing mix is 1/2 cup plus 2 Tablespoons.)
1⁄3 cup green pepper, Chopped
1⁄3 cup onion, Finely Chopped
1 1⁄2 slices white bread (Tear bread slices into fresh bread crumbs.)
1 large egg, Slightly Beaten
2 cups cheddar cheese, Shredded
1⁄2 cup sour cream
1 slice cheddar cheese

GARNISHES

1 slice avocado
Directions
Combine ground beef, tomato sauce, taco seasoning mix, green pepper, onion, bread crumbs and egg; mix thoroughly.
Combine shredded cheese and sour cream.
Place half the meat mixture in 9 1/4 x 5 1/4 x 2 3/4-inch loaf pan.
Make deep well the length of loaf; place cheese mixture in well.
Place remaining meat mixture on top of cheese; seal well.
Bake in moderate oven (375 degrees F.) 1 1/2 to 1 3/4 hours.
Pour off drippings.
Top meatloaf with overlapping cheese triangles.
Let meatloaf stand 8 to 10 minutes.
Place on serving platter and garnish with avocado slies; place cherry tomato in center of each avocado slice.
Most Helpful
This was awesome!!! I suck at meatloaves and I didn't press the meat together enough after the cheese/sour cream layer, so much of the goodness cooked out and it didn't slice nicely, but the flavour was delicious. I only had one envelope of taco seasoning, so that's all I used, but it was wonderful anyway perfect. Will definitely make this again -- and this time I'll make sure it seals around the filling!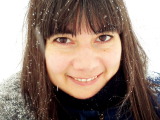 Great and easy to make. I used ground turkey instead of beef.