NJstixx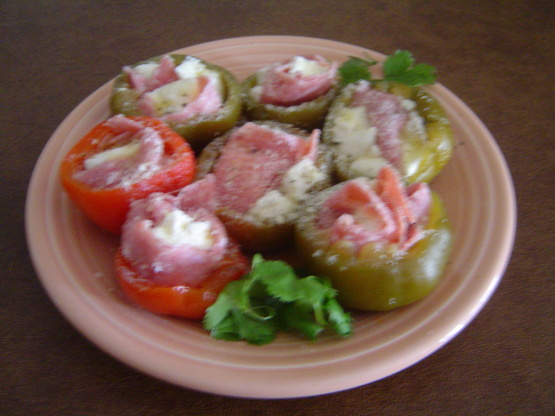 Saw something like this served at an Italian restaurant and decided to make them at home. Always get requests to make them. You can also use the Sweet pepper variety, but I prefer a little heat. :)

Top Review by Roy J
This is great as an antipasto course, prior to a meal of lasagne or spaghetti. A lot of the flavor depends upon the cherry peppers that are selected, so choose them and try them before making this dish. I assumed the chef meant the pickled hot cherry peppers that are everywhere in the markets in jars. However, it later ocurred to me that other smaller fresh peppers from the garden or produce aisle could work in this dish as well. It could also be garnished with fresh italian herbs besides parsley. Slice the cold meats thin.
Remove stem and seeds from cherry peppers and rinse peppers under cold water.
Cut meat slices into halves or quarters Cut cheese into appropriate sizes for cherry peppers (pieces should be about half the size of pepper cavity) Add a little grated cheese to bottom of pepper Add half slices of salami and prosciutto Stuff cheese into meat so all fits snugly Sprinkle grated cheese on top Salt and pepper to taste Garnish with fresh parsley.