Strawberry Daiquiri Cupcakes (Semi-Homemade)
Chickee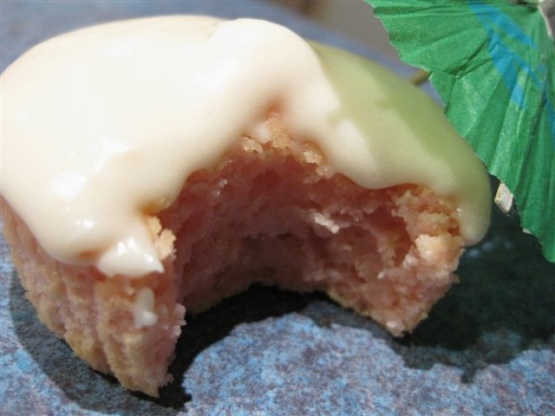 This is my take on a super easy semi-homemade recipe from Dierberg's Everybody Cooks June 2008 issue. Perfect for a summery luncheon, a bridal shower, a baby (girl) shower, or a get-together with the girls!

Love the flavor of these strawberry cupcakes and they couldn't have been easier to make. That being said, I somehow managed to forget to add the eggs and didn't realize it until the batter was already in the paper liners so in the oven they went. Have you ever wondered what would happen if you forgot the eggs in the batter? Don't try it, let's just say that they were extremely tender. The no egg was my fault so I'm still going to give these 5* because they were still good! Made for ZWT 5 by an Epicurean Queen!
In a 2 cup glass measuring cup, combine lime peel and juice with rum; add water to bring liquid up to 1 1/4 cups.
Beat cake mix, lime/rum/water mixture, apple sauce and eggs in large bowl on low speed for 30 seconds, then on medium speed for 2 minutes.
Line 24 muffin cups with paper baking cups.
Spoon batter into muffin cups, filling about 2/3 full.
Bake in 350 degree oven 15-17 minutes (until a wooden toothpick inserted in center comes out clean).
Remove cupcakes from pans immediately, place on wire racks and cool completely.
Pipe/spread cool whip or frosting on top of cupcakes.
Garnish each with a quarter of a strawberry and a little grated lime peel.