luvmybge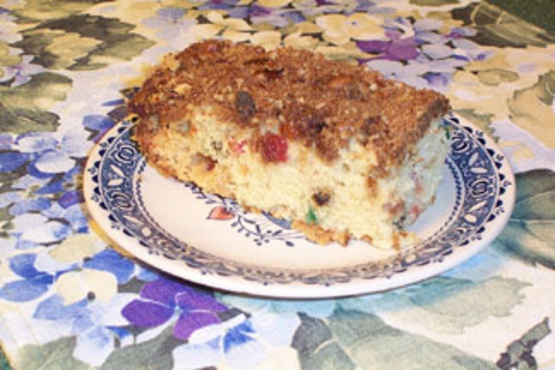 Many people eat Stollen during the Christmas holiday. I use the chopped candied fruit that you would use for fruit cake. This coffee cake bakes up light and delicious. You can even prepare it the night before, cover it and then in the morning take the cover off and bake it.

Top Review by Dorel
I used butter,Didn't bother toasting the pecans (I tend to burn them), Used more fruit than called for as I didn't want about 1/2 cup fruit left over. Dusted the fruit with some of the flour mixture so it wouldn't stick together. Used an 8'X 11" pan and cooked it about 55 minutes before it was done. I found it very good and I loved the topping, thanks for a nice recipe.
Beat margarine or butter and granulated sugar in a medium mixing bowl with an electric mixer on medium high speed until light and fluffy.
Add eggs, sour cream, and vanilla; beat until well combined.
Stir together flour, baking powder, baking soda, and salt.
Add to butter sugar mixture; beat until combined.
Stir in raisins and 2/3 cup of fruit cake mix.
Spread batter evenly into a greased and floured 13x9x2-inch baking pan.
Stir together brown sugar, cinnamon, pecans, and 1/3 cup of fruit cake mix.
Sprinkle evenly over batter and pat down.
Bake in a 350°F oven for 40 to 45 minutes or until toothpick inserted into center comes out clean.
Serve warm or cooled.