Stir Fried Carrots With Mango and Ginger
rpgaymer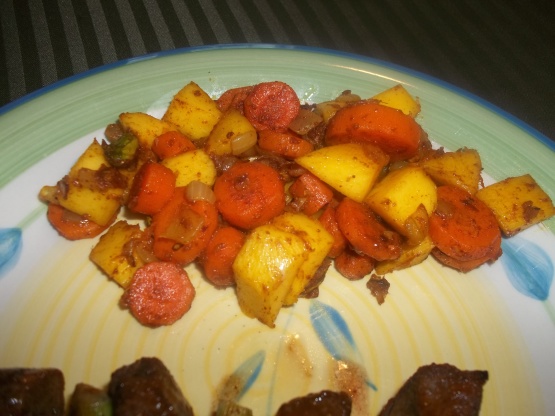 Excellent side dish for grilled meat or couscous or on its own with yoghurt and a green salad, mango must be ripe and sweet or you will need to add honey to the dish to balance the flavours. From Modern Moroccan by Ghillie Basan

Top Review by WiGal
Liked the cinnamon, ginger, mangoes, and pistachios but felt that it was too spicy so next time will reduce the ras el hanout spice mix to half. Served with recipe#428754,recipe#394264, and recipe#374003. Thank you lindseylcw for posting. Made for Unrulies Under the Influence while traveling through NA*ME during ZWT6.
Heat the olive oil in a heavy fry pan or wok.
Stir in the onion, ginger and garlic and fry for 1 minute.
add the carrots, tossing them in the pan to make sure that they are thoroughly mixed with the flavouring ingredients, and cook until they begin to brown.
Add the pistachio nuts, cinnamon and ras el hanout, then gently mix in the mango.
sprinkle with coriander, season with salt and pour over the lemon juice.
serve immediately.