Steamed Oysters in Tomato Vinaigrette Served in Sake Cups
Peter J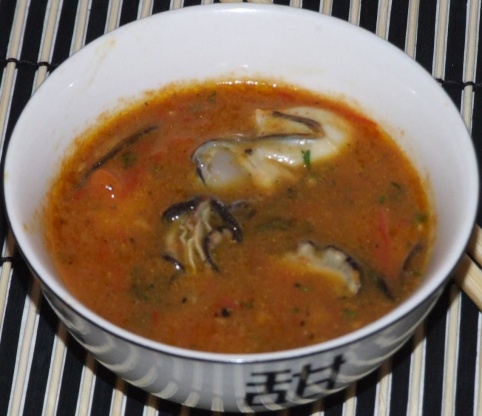 Not quite sure where i got this recipe, but it is a hit with company. The sake cups are perfect for serving and not so hard to find anymore.

Really enjoyed this one Kanzeda! The only change I made was to cook 6 oysters in a bowl as a more substantial entree, I think if I went to a dinner party and only got the one oyster I'd be hoping a few others at the table didn't like them! Because of the larger amount I steamed for six minutes rather than three. The vinaigrette had a very distinctive taste and aroma but was just right to add to the taste of the oysters rather than take away from them.
In a small saucepan, combine tomatoes through sugar, and place over low heat for about 2 minutes, until simmering.
Remove from heat, add chives and set aside.
Prepare your steamer (bamboo basket over a wok works well).
Place 1/4 tsp of tomato mixture in sake cup, put oyster in cup, top with one tablespoon of tomato mixture.
Place in steamer and steam for 3 minutes. BE VERY CAREFUL when removing cups from steamer!
Put a tooth pick in the oyster, let cool for 4 minutes and serve immediately.
Use the toothpick to eat the oyster, and sip the vinaigrette.